OUR HISTORY
Company Timeline
1943
The roots of Heidt Design can be traced back to a makeshift office in the Tampa garage of Dick Merrin in 1943. Merrin Engineering Company was the proving ground for Dick Merrin, Alan Primm, Bob Heidt, and James Burney, the original members of Heidt-Burney that operated until the late 1960s.
1971
In 1971, Heidt and Associates was incorporated by Bob Heidt and E. T. "Buddy" Henry. They were joined by Art Andrews (Hillsborough County Engineer) in 1972 and by James Lucas in 1980. These leaders of development consulting dominated the Tampa engineering and surveying market for private land developers and homebuilders.
1980 - 1998
The 1980s ushered in a boom for Hillsborough County and Heidt & Associates was there to provide engineering and surveying services for projects like Bloomingdale, Avila, Tampa Palms, Hunters Green and Westchase. Heidt continued to have success in the 1990s with projects such as Harbour Island, Meadow Pointe, Cheval, West Meadows, the Westshore Mall, the St. Pete Times Forum and FishHawk Ranch.
1999 - 2009
From 1999 to 2005, Heidt and Associates continued to expand to over 300 employees by adding offices in Fort Myers, Sarasota and Brooksville under new leadership who purchased ownership of Heidt & Associates in 2005. Unfortunately, the economic recession that crippled the residential homebuilding industry proved to be more than the owners of Heidt and Associates could withstand. The owners decided to close the doors of Heidt and Associates on September 15, 2009 after yielding to overwhelming financial pressure.
2009 - 2021
Pat Gassaway, Tim Plate, Mike Tucker, and Brian Cale, four senior executives of the former firm, purchased the assets of Heidt and Associates from the Bank of Tampa and started the current firm of Heidt Design to continue to serve our loyal clients. Operations commenced at Heidt Design on September 16, 2009 with a total of 16 employees from the former firm to avoid any interruption of service to our loyal clients. Brian Cale's interest in Heidt Design was redeemed in 2011 by Gassaway, Plate and Tucker to allow him to begin his current career with a national homebuilding company where he continues to be a loyal client.
In January 2018, Heidt Design opened an office in Orlando to meet the demand of our clients during a time of unprecedented growth. In 2020, Heidt Design expanded to the panhandle of Florida to begin work on Latitude Margaritaville Watersound, a large master-planned community in Panama City Beach.
2022 – Present Day
On January 1, 2022, Senior Executives Christie Barreiro, Michael Caron, Alan Carson, Frank Gizzo, and Strickland Smith purchased Heidt Design, completing the goal of an internal transition of ownership. Pat Gassaway, Tim Plate, and Mike Tucker remain with the firm as Founders and continue to mentor the ownership team.
Today, Heidt Design's team includes over 60 employees in our Tampa and Orlando offices and continues to grow both in size and geographic reach with the opening of our new Emerald Coast office in Panama City.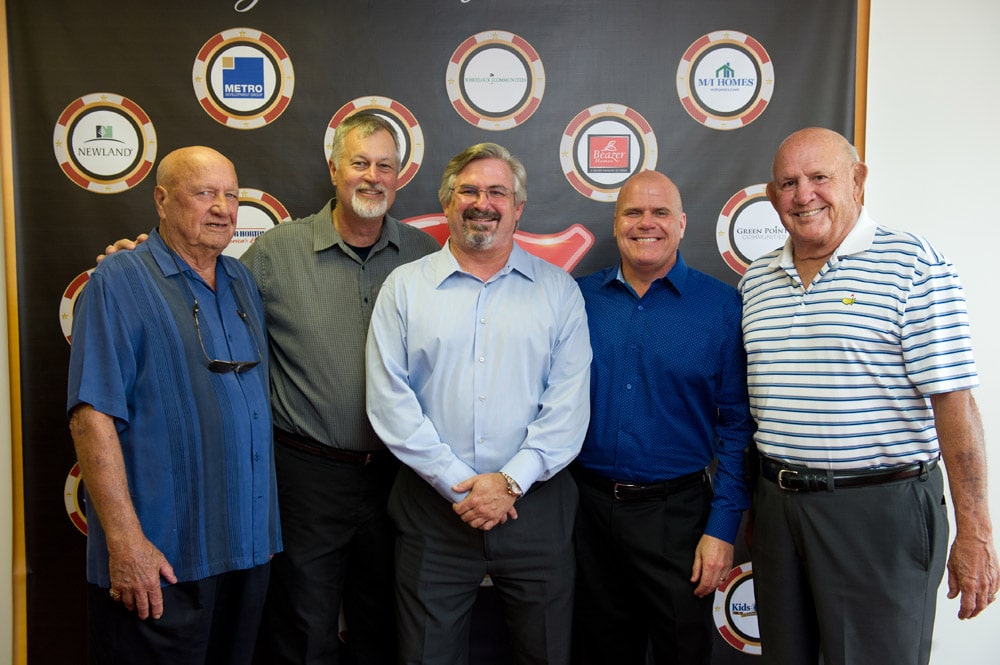 From left to right: Buddy Henry, Michael Tucker, Tim Plate, Patrick Gassaway, and Art Andrews